SDCC 2017: "LADIES OF THE CON" JORDANDENÈ 'VERSE POWER ZIPPERED TOTE BAG (ATTENDEE)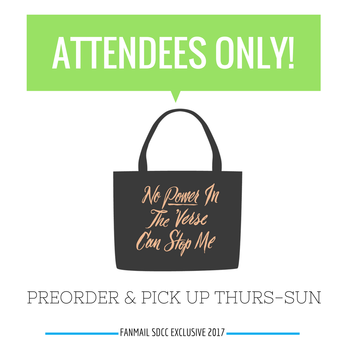 The geek box for and by lady geeks - FanMail (myfanmail.com) - presents its "Ladies of the Con" 2017 zippered tote bag, featuring artwork by Jordandene. No power in the 'verse should stop you from buying this girl-power bag!
NON-ATTENDEES: We have reserved a limited number of these bags for those not attending San Diego Comic-Con this year. You can preorder for delivery after the show through this link.
NOTE: This order is for pickup at San Diego Comic-Con (July 20-23) at Booth #4539 during regular show hours (no pickups are allowed on Preview Night, Wednesday, July 19). You must present a copy of this order (either on paper or on your phone) along with a photo id to pickup your order. Orders that are not picked up can be shipped after the show for a handling fee of $5 plus shipping cost. Due to the limited nature of this exclusive, your credit card will be charged immediately to reserve the item for pickup. No coupon or discount codes or Club discounts can be used for this item. Our system requires us to charge shipping so shipping for this item is one penny, bringing your total cost to $20.