SDCC 2017: SARAH KUHN'S "HEROINE WORSHIP" COMMEMORATIVE COLLECTION (NON-ATTENDEE)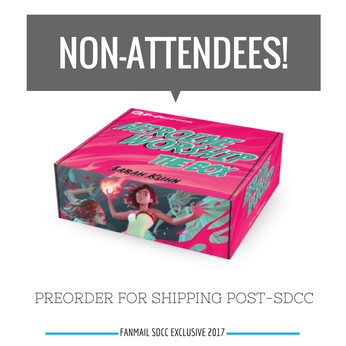 The ultimate Sarah Kuhn fan package from FanMail - the subscription box by and for lady geeks (myfanmail.com) - celebrates the release of the second book in her snarky and smart fantasy series featuring Asian-American superheroines Evie Tanaka and Aveda Jupiter. Being released in July by DAW Books, "Heroine Worship" follows the two best friends as they protect San Francisco from perilous threats.
This limited-edition commemorative package, produced in partnership with the author and DAW Books, includes:
· A copy of Heroine Complex by Sarah Kuhn
· A copy of Heroine Worship by Sarah Kuhn
· Signed bookplate by Sarah Kuhn
· A letter to the reader from author Sarah Kuhn
· Monster Cupcake Tote Bag
· Jordandené Sticker Pack
· Giant Robot "Spam Musubi" Enamel Pin
· Giant Robot "Soup Dumpling" Enamel Pin
· Monster Cupcake Soap from SnowsCutSoaps
· "Girl Gang" 5"x7" Print by Jen Bartel
· Custom collectible Heroine Worship box
ATTENDEES: You can preorder for pickup at our Booth #4539 at San Diego Comic-Con through this link.
NOTE: A limited number of these packages have been reserved for those who won't be attending. This order will be shipped to you following San Diego Comic-Con (July 20-23). Due to the limited nature of this exclusive, your credit card will be charged immediately to reserve the item for you. No coupon or discount codes or Club discounts can be used for this item.