Wizard World Chicago Exclusive Gentlemen Set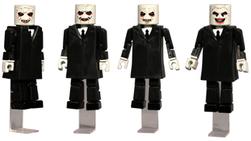 Wizard World Chicago Exclusive
Gentlemen PALz 4-Pack

?Can't even shout, Can't even cry, The Gentlemen are coming by??

They don?t walk ? they float. The don?t speak ? they just smile their malevolent, metallic smiles. And they seem rather polite? except for that whole ?stealing your voice and cutting out your heart when you can?t scream? thing.

They?re the Gentlemen ? the fairytale monsters featured in ?Hush,? the groundbreaking episode of Buffy the Vampire Slayer which featured virtually no dialogue, and captured the imaginations of fans everywhere.

And now, the Gentlemen can join your Buffy PALz collection with this exclusive 4-pack. Featuring four distinctly different Gentlemen, the 4-pack will only be available to those who attend Wizard World Chicago in 2005, and members of the Palisades Collectors Club.

Grab your gentlemen PALz today; they?re guaranteed to steal your heart?