Buffy Series 7 Black Shirt Spike Minibust/Ornament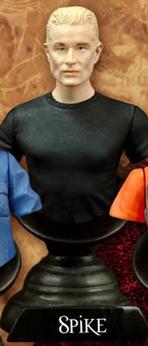 Diamond Select Toys presents its next series of popular Buffy the Vampire Slayer and Angel ornaments! This finely detailed series focuses on fan-favorite characters from both series including the following:

Spike (from Buffy the Vampire Slayer)

Sculpted by Gore Group and Clayburn Moore, these beautifully produced collectibles – whether enjoyed as ornaments or micro-sculpts – will look perfect in every Buffy fan's collection! All four come fully painted and ready for display.