SDCC 2021: BUFFY THE VAMPIRE SLAYER CELEBRATION BOX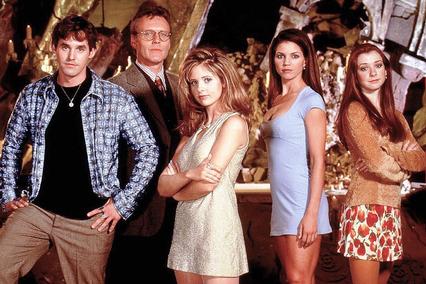 With no in-person San Diego Comic Con this year, we're looking back at CineQuest.com's history and celebrating the show that started it all for us: Buffy the Vampire Slayer.
Originally an outlet to sell our founder's extra Buffy Inkworks cards, CineQuest.com eventually became the largest online retailer of Buffy the Vampire Slayer collectibles and partnered with Moore Action Collectibles (the original producer of Buffy figures) and Diamond Select Toys to produce five CineQuest.com Buffy exclusives (most of which are on sale as part of the Buffy SDCC celebration: Willow and Tara "Together Forever" Set, "Grave" Spike, "Hell's Bells" Anya, Dark Witch Willow and a exclusive Drusilla ornament designed by Clayburn Moore. On our own, we produced a licensed Jenny Calendar Calendar with Robia LaMorte and a series of Buffy cast autograph cards (with Clare "Glory" Kramer and Mercedes "Harmony" McNab under our CQ Signature brand!
This year for SDCC@Home 2021, we're offering this amazing Buffy Celebration Mystery Box, containing an array of past Buffy and Angel collectibles with a retail value of more than $180! Among the items included are a DST exclusive vinyl figure, a ToyFare exclusive, a rare Buffy art print originally released 20 years ago, a copy of Dark Horse's Buffy #1, two cast autographs and more!
Limited to 50 boxes so order early to get in on the fun!