Buffy Connections Inkworks Sealed Trading Card Box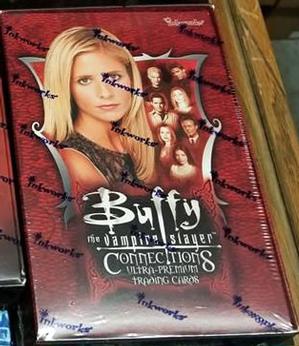 This set captures the love and hate, (and sometimes both!) relationships of your favorite characters.
This 72-card series (guaranteed full 72-card set in every box) is printed on premium 20-pt holographic foil board, with each card etched and image enhanced with a special coating for ultimate gloss and premium feel.
This product is loaded with random bonus cards to satisfy every Buffy fan:
72-card Parallel Set (Appx 1:1 pack).

9-card foil puzzle "SLAYER'S CIRCLE" features Buffy and all her friends and fiends. (Appx. 1:11 packs).

6-card "HEARTBREAKS" features the ultimate heartbreaks (Appx. 1:14 packs).

PIECEWORKS™ CARDS - 3 different dual costume cards: Xander/Anya, Willow/Tara, Buffy/Spike. Each card will contain two costume pieces - one from each character as they appeared together on-screen (Appx. 1 per box).

PLUS – 3 box loaders (1 per box)