SDCC 2021: CHARMED: BOX OF SHADOWS COLLECTION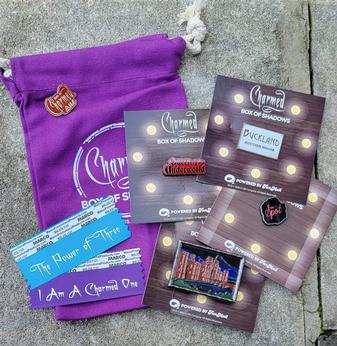 An incredible collection of enamel pins from our Charmed: Box of Shadows licensed subscription box, along with two exclusive convention badge ribbons (to make you feel like you're on the show floor), packed in a cute logo'd Charmed bag! There's also an exclusive red "I Am a Charmed One" enamel pin that was not in any of our subscription boxes. The pins in this special collection include:

"Queen of the Underworld"

- a tribute to Phoebe Halliwell's time as the Dark Queen


"The Spot"

- For one brief neon shining moment, P3 became The Spot. This glow-in-the-dark pin captures it's neon pink logo and a name change that, thankfully, only lasted until the end of one episode.

"Buckland Auction House"

- Show that you know where to get your antiques appraised - and where Prue Halliwell worked - by wearing this exclusive enamel pin, emblazoned with a gold logo against a white background.

"Cursed Painting" Light-Up Pin

- An amazing fun wearable tribute to "The Painted World" episode of Charmed.k When turned on, the pin lights up, beckoning Prue to look in one of the windows.