SDCC 2016: SUPERNATURAL 1:18 IMPALA W/EXCLUSIVE CASTIEL & CROWLEY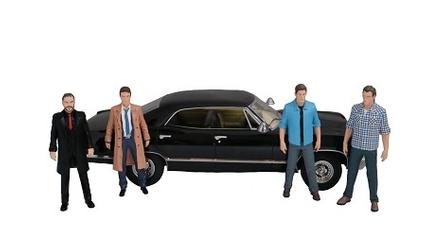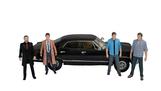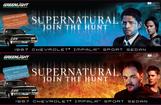 For the first time, the Metallicar and all the boys of Supernatural ride together in one exclusive box set!
This limited-edition exclusive features the iconic black 1967 Chevy Impala Sport Sedan, one of the stars of the Supernatural TV series, which is now entering its 12th season. This 1:18 scale metal die-cast vehicle from Greenlight Toys also comes with highly detailed figures of Sam and Dean Winchester as well as exclusive figures of Castiel and Crowley that are only available in this special edition boxed set, limited to 500 pieces worldwide.
For a limited time, we'll include a Supernatural T-shirt, a $25 value, free with your purchase! Be sure to pick the size of your shirt when you check out! And we're throwing in a 1:64 scale SDCC exclusive mini "Swan Song" Metallicar as a special gift (a $25 value as well).
NOTE: No coupon or discount codes or Club CQ discounts can be used for this item.