Army of Darkness "Ashes to Ashes" Photo Cover #1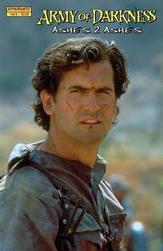 ARMY OF DARKNESS #1 PHOTO COVER

Written by Andy Hartnell; Art by Nick Bradshaw; Photo Cover

Tied to the mythology made famous by Sam Raimi in his Evil Dead movies, Army of Darkness #1 showcases Ash in a story where the hero gets a chance at a ?do-over? ? a chance to set right a new problem he inadvertently caused when he misspoke the magic words in the Army of Darkness film. Straight from the comfort of S-Mart, Ash has to retrace his steps to a certain cabin in the woods he?s all too familiar with.