MAD MAGAZINE: HARRY POTTER #1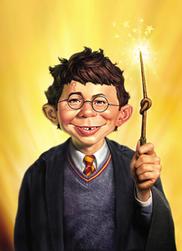 The wizards at MAD cash in on this summer's Harry Potter mania with an enchanted (and complete!) collection of Harry Potter parodies from DC Comics!

Most magically, this special edition features MAD's all-new parody of HPATDHP2 (That's Harry Potter and the Deathly Hallows Part 2 for you muggles)!

Written and illustrated by the Usual Gang of Idiots -- including Mort Drucker, Hermann Mejia, Tom Richmond, Desmond Devlin and others -- this 80-page special is scheduled to arrive in stores on July 6.