STAR WARS REPUBLIC COMMANDO SCORCH MINIBUST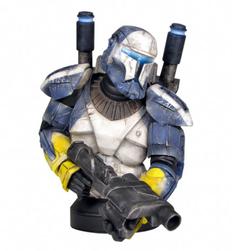 Delta Squad was an elite heavily armored clone commando unit that carried out demanding missions for the Grand Army of the Republic during the Clone Wars. The unit played instrumental roles in the Battle of Geonosis as well as in the lead up to the Battle of Kashyyyk. Consisting of four hardened, well trained commandos;

SCORCH, also known as RC-1262, or Delta 62, was a clone commando in the Grand Army of the Republic during the Clone Wars. Among the commandos of Delta Squad he was often referred to as Scorch, he was considered to be Delta Squad's wise guy, and was often chided by RC-1140 known as Fixer, the squads unofficial second in command.

However, most of Scorch's comments were aimed at Sev, and he was not afraid to talk back. Scorch was the squads demolitions expert, and loved annihilating anything that came in reach.

This is a limited edition exclusive available to Gentle Giant Premiere Guild Members.

NOTE: This is a preorder slated to ship in December (subject to change without notice by the manufacturer). Your credit card will be charged when the item is about to ship to you. There is a $30 cancellation/restock fee should you cancel your preorder.