SDCC 2018: SUPERNATURAL CASTIEL 3D FIGURE KEYCHAIN (BLACK-WINGED VARIANT) NON-ATTENDEE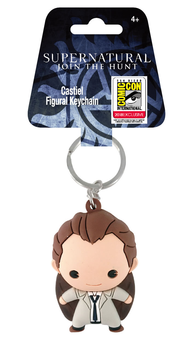 As always, we'll be at San Diego Comic Con this summer and be back with some great new Supernatural exclusives!
We're marking the coming 14th season of Supernatural (!) with an exclusive soft-touch 3D figural keychain of our favorite angel, Castiel. Produced for CineQuest.com by Monogram International, this 3D foam keychain features Cas with translucent black wings (a variant from the original white-winged version from 2016). Distinguish your car keys with Cas or attach him to your backpack or bag so you'll always have a guardian angel along! This officially licensed keychain measures 2.5"-3".
This CineQuest.com Exclusive Limited-Edition Supernatural Licensed Castial Keychain will be the perfect commemorative for your trip to the 2018 San Diego Comic-Con.
ATTENDEES: To have your order reserved for pickup at San Diego Comic Con, please click this link to order.
NOTE: This order is for those not attending San Diego Comic-Con (July 18-22). Your order will be shipped during the first week of August. Due to the limited nature of this exclusive, your credit card will be charged immediately upon ordering to reserve the item for pickup. No coupon or discount codes or Club CQ discounts can be used for this item.