SUPERNATURAL COLORING BOOK SET (2)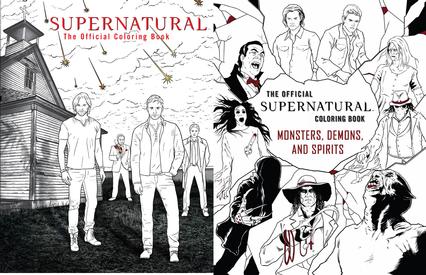 The perfect gift for the aspiring hunter, this gorgeous coloring book is filled with detailed illustrations of the characters and creatures of Supernatural. From the rich black of the Winchesters' car to the blood red of a devil's trap, the world of Supernatural is yours to design and color. Featuring patterns inspired by Dean, Sam, Castiel, Crowley, and a host of angels, demons, and other creatures, these minutely detailed drawings offer hours of creative fun.
From wraiths and Hellhounds to Leviathan and vengeful spirits, Sam and Dean Winchester have hunted all manner of creatures in their quest to save innocent people from the supernatural. This stunning coloring book features intricate designs and patterns of the things that go bump in the night. Now you can explore everything, including banshees, demons, and other monsters, in terrifying detail with The Official Supernatural Coloring Book: Monsters, Demons, and Spirits.