CQ EXCLUSIVE: SUPERNATURAL "MIDNIGHT" SCARECROW MINIBUST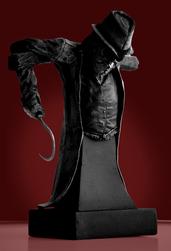 Limited to just 100 pieces, this black variant bust will be a stunning part of CineQuest.com's new line of Supernatural busts.

CineQuest.com and Warner Brothers Consumer Products are partnering to produce a line of Supernatural minibusts, with the first release in early 2008 featuring "The Scarecrow" and Dean Winchester from the episode "Wendigo." many more.

Sculpted by Atomic Monkey, the hand-painted midnight black resin "Scarecrow" bust stands about 7" tall from base to top of the sculpt and is packed in a four-color box.