Supernatural Season Three Base Card Set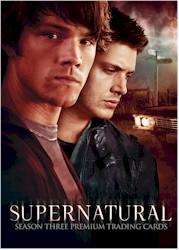 The thrilling and terrifying journey of the Winchester Brothers Dean (Jensen Ackles) and Sam (Jared Padalecki) continues with the third season of SUPERNATURAL on The CW.

Inkworks announces the release of the next fan-favorite installment, Supernatural Season Three Premium Trading Cards. The 81-card set follows the Winchesters' as their mission continues. They travel the country, encountering creatures that most people believe exist only in folklore, superstition and nightmares -- vampires, spirits, and creatures. Now they are being hunted too?