`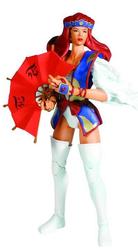 Shi stand 6 ¼" tall on a base witth the Shi logo and emblem and comes with a samurai sword and Naginata

Dark Horse's newest comic is celebrating its 10th anniversary. Billy Tucci's Shi is one of the most popular independent comics, and is more than ready for her close-up. So, we have drafted some of the best sculptors and painters around to bring her and some of her cohorts forward as a set of highly-articulated action figures.

The action figures feature up to 18 points of articulation, and are sculpted by Steve Kiwus. Sold separately, the Shi and Tomoe se figures come with accessories, are blister carded, and can be posed separately or together in a combat scene.