Star Wars ROTS Special Figure Assortment 1 (12 Different)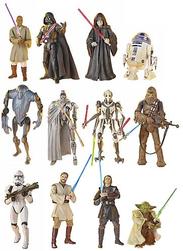 Star Wars - Episode III Revenge of the Sith 3 3/4-inch Basic Action Figure Assortment Collection 1, Wave 1 contains 12 individually packaged action figures including:

Obi-Wan Kenobi: Obi-Wan Kenobi is a Jedi Master and a General in the Clone Wars. He embarks on a dangerous mission to stop General Grievous in an attempt to bring the war closer to an end.

Anakin Skywalker: Anakin is now a full Jedi Knight and his heroic feats have made him a hero throughout the Republic. He is lured to the dark side of the Force by promises of unlimited power.

General Grievous: General Grievous is the supreme commander of the droid armies and a brilliant military leader. He hunts Jedi for sport and wears their lightsabers as trophies on his belt.

Chewbacca: The Wookiee warrior Chewbacca battles beside fellow warrior Tarfful to save their home planet from the invading Separatist forces. Yoda leads the courageous fight to save Kashyyyk from domination.

Clone Trooper: Clone Troopers are the genetically engineered soldiers that are the Grand Army of the Republic. They are sent throughout the galaxy to fight the droid armies that belong to the Separatist forces.

R2-D2: The feisty droid R2-D2 is assigned to serve Anakin Skywalker in the Clone Wars. Seated in the droid socket of Anakin?s Jedi starfighter, R2-D2 is witness to dramatic events that will change the galaxy.

Super Battle Droid: Manufactured by Count Dooku, the tough, deadly and durable super battle droids are used by the Separatist forces in battle. These droid armies clash with the clone troopers throughout the galaxy.

Grievous?s Bodyguard: General Grievous is surrounded by droid bodyguards. They protect the commander of the droid armies with impenetrable electrostaffs as the Republic forces attempt to stop this dangerous and deadly enemy.

Mace Windu: Mace Windu is a courageous fighter and respected member of the Jedi Council. In a desperate attempt to save the galaxy, Mace leads a daring confrontation against Supreme Chancellor Palpatine.

Darth Vader: Giving up everyone and everything he cares about, Anakin falls to the dark side. Encased in the black armor that will come to strike fear throughout the galaxy, he is no longer Anakin Skywalker?he is now Darth Vader.

Emperor Palpatine: The Supreme Chancellor expands his power and controls the Galactic Senate. As the Clone Wars rage, he sets into motion the final part of his plan to rule the galaxy and destroy the Jedi.

Yoda: The wise Jedi Master Yoda leads the Republic?s clone army into battle on the Wookiee world of Kashyyyk. He is assisted in this fateful mission by mighty Wookiee warriors Chewbacca and Tarfful.