Ultimate Daredevil & Elektra #1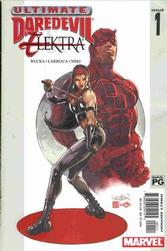 ULTIMATE DAREDEVIL & ELEKTRA #1. In mint unread condition. Shipped bagged and boarded.
COVER BY: Salvador Larroca
WRITER: Greg Rucka
PENCILS: Salvador Larroca
THE STORY: The ultimate couple gets the ultimate treatment! Wide-eyed Elektra Natchios arrives at Columbia University with a fourth-degree black belt in karate, but a white belt in life experience. Raised by a loving single father in Queens and a demanding martial arts master in the dojo, Elektra rises to the challenge of freshman year -- including a violent campus bully. But will even she be prepared for the romantic free-fall she plunges into when she meets Matthew Murdock, a pre-law student who just happens to be blind... and much more than he appears?