ENTERTAINMENT WEEKLY "SHERLOCK" BENEDICT CUMBERBACH COVER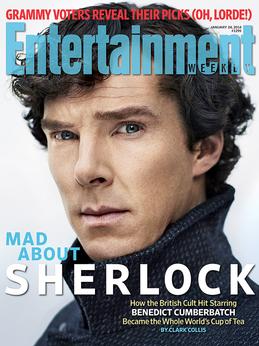 What will fans of British detective shows, Benedict Cumberbatch, and/or super-cool long overcoats be doing this weekend? Why, that's easy to deduce: They'll be watching Cumberbatch and Martin Freeman play Sherlock Holmes and Dr. Watson in the long-awaited season 3 premiere of Sherlock, the updated revamp of Sir Arthur Conan Doyle's iconic sleuthing tales which debuts on PBS's Masterpiece this coming Sunday.
It's been almost two years since the show was last on the air — which is a long time for fans to ponder just how Sherlock survived his seemingly fatal fall from a hospital roof in the season 2 finale. To mark Holmes' return to our screens, EW visited with the Sherlock crew in London for a cover story that delves deep into this global phenomenon. Producer Sue Vertue reveals that Cumberbatch did not get the role because of his looks — "When we first cast him, people were saying, 'You promised us a sexy one!'" — while Freeman reveals that he almost didn't get cast as Watson at all. The show's stars and creators preview season 3 which will first reunite our two heroes and find Holmes acting as best man at Watson's wedding. "It's going to hit people where they live," says Freeman of the episode. Cumberbatch, meanwhile, discusses the season's "chilling" new villain Charles Augustus Magnussen (Lars Mikkelsen), and says he's completely game to do more Sherlock after this season. Speaking of which, cocreator Steve Moffat tells EW that he and fellow Sherlock overlord Mark Gatiss already know what they want to do for season four. "We're really excited about where we're going with it," says Moffat, who also talks about the future of his other show Doctor Who.