Star Trek TNG "All Good Things" Admiral Riker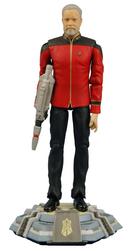 Star Trek TNG Series 1 "All Good Things..." Riker Figure
Based on the final episode of Star Trek: The Next Generation comes this intricately detailed "All Good Things" Riker Previews Exclusive! From an alternate future, Admiral William T. Riker has changed considerably following the death of Deanna Troi.

Also included are a padd, tricorder, phaser, compression rifle and Star Trek base.