TEEN WOLF BITE ME #1 (OF 3) 1:10 PHOTO VARIANT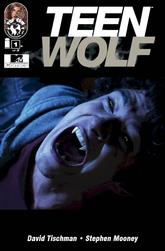 story DAVID TISCHMAN art / cover STEPHEN MOONEY Scott McCall's life is a living nightmare. Sure, he's co-captain of the Beacon Hills High Lacrosse Team and he's got a hot new girlfriend named Allison who adores him - but Scott was bitten by a werewolf. And every time he gets excited, the claws come out. And the hair. And the fangs. Which might be okay, except Allison's father leads a specially trained group of Hunters who want him dead. Scott's managed to keep his secret safe, but what happens when he can't reverse the process?

Rare 1:10 Variant Photo Exclusive Cover.