Spike & Dru: Pretty Maids All in a Row (Hardcover)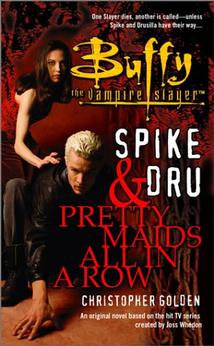 In the early 1940s, Sophie the Vampire Slayer discovers that vampire fiends Spike and Drusilla have stolen the Watchers' Council list of all the Slayers in training and plan to slaughter the would-be Slayers before they can gain full power in exchange for a magical necklace that endows its wearer with the ability to shapeshift at will. Reprint. (A WB Network television series, starring Sarah Michelle Gellar) By Christopher Golden.
NOTE: You will charged only for the price of the item you are ordering plus 1 cent; no shipping will be charged but there is a 1-cent fee as our system requires a shipping amount in order to process orders).You can pick up your item(s) at the CineQuest.com booth at 90s Con 2023, March 17,18,19 at the Connecticut Convention Center in Hartford , CT. To pick up your order, please bring your receipt (either printed or on your phone) along with a photo ID matching the name of the person who placed the order. Orders must be picked up by noon on Sunday, March 19; orders not picked up will be refunded less 50% restocking/carrying fee.