Charmed #2 Canada FanExpo Exclusive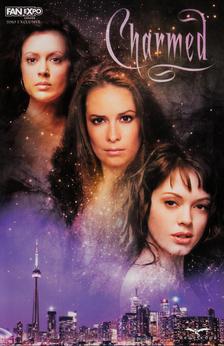 (W) Paul Ruditis (A) Dave Hoover (C) Photo

As the Charmed Ones go about settling into their new lives forces from the underworld prepare to unleash a power that will destroy the Charmed Ones once and for all. Meanwhile Paige accepts a new charge and learns the hard way that teaching isn't always the easiest job when your student is a witch in training. Phoebe and Piper attend the funeral of Brittany, the first innocent they ever saved, only to find that her death may herald the beginnings of a threat that may endanger not only all the innocents the have saved, but the Charmed ones themselves.

Fan Expo Canada exclusive cover. Limited to 500 copies.
NOTE: You will charged only for the price of the item you are ordering plus 1 cent; no shipping will be charged but there is a 1-cent fee as our system requires a shipping amount in order to process orders).You can pick up your item(s) at the CineQuest.com booth at 90s Con 2023, March 17,18,19 at the Connecticut Convention Center in Hartford , CT. To pick up your order, please bring your receipt (either printed or on your phone) along with a photo ID matching the name of the person who placed the order. Orders must be picked up by noon on Sunday, March 19; orders not picked up will be refunded less 50% restocking/carrying fee.