CLARE KRAMER SIGNED RED DRESS GLORY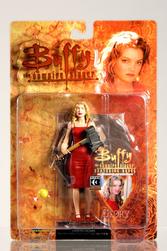 A Titan Magazine exclusive, with a card pack personally signed by Clare (Glory) Kramer!

Season 5's Big Bad in her iconic red dress and matching shoes. This 6-inch figure is blister-carded (with signature behind blister) and comes with 14-16 points of articulation and detailed sculpting by Gentle Giant.