Buffy PALZ Exclusive Monster Pack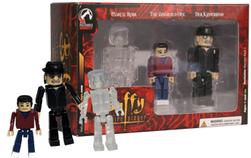 The Universe of Buffy the Vampire Slayer has no shortage of villains, and these anti-heroes are often more well-liked by audiences than the heroes that we?re supposed to root for?which is why Palisades Toys has created Monster Packs to accompany their popular line of Buffy PALz.
Monster Packs allow collectors access to PALz of some of their favorite ?baddies? and ?Monster of the Week? villains.


Monster Pack 1 features:


Marcie Ross- The unpopular girl from Season 1?s ?Out of Mind, Out of Sight? who becomes invisible and wreaks havoc when no one notices her.

Der Kinderstod- The demon from Season 2?s ?Killed by Death,? who can only be seen by sick children, and feeds off of them with his ?eye stalks?.

The Anointed One- The child vampire, featured in the first two seasons, who leads Buffy into the Master?s subterranean lair, and leads the Order of Aurelius following the Master?s death.