Sideshow 12" Vampire Willow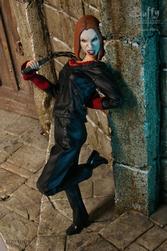 After wishing that Buffy had never come to Sunnydale, Cordelia is transported by a wish demon to an alternate reality, where demons rule the streets, and Xander and Willow are not only dating, but are also vampires!

Sideshow Collectibles is proud to bring you Willow, in her alternate reality vampire form! This 12? figure includes a cat-o'-nine-tails whip, keys with key ring, broken pool cue, and a figure display stand.