Angel: "Book of the Dead" Paperback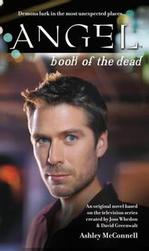 Wes has loved books since childhood. When a former colleague, Adrian O'Flaherty, arrives in town and invites him to a secret auction of rare occult books, Wes immediately agrees.

However Adrian wants more than dusty old books at the auction. He wants revenge. Before the Watchers' Council was blown up (seen in 'Never Leave Me'), Rutherford Circe took a number of rare books from the council's libraries and killed the librarian who was Adrian's father.

Wes buys a number of old books at the auction including one of the most famous books of magick, The Red Compendium, which is infamous for absorbing those who read it. Wes has always been a sucker for literature and soon finds he can't put it down even if he wants to.