Tales of the Slayer Vol. 4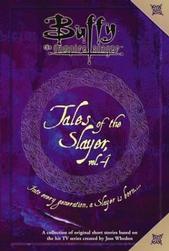 "I can't be...just a person,
I can't be helpless like that...."
-- Buffy, "Helpless"

At eighteen, each Slayer must face a terrifying trial: the Tento di Cruciamentum. This time-honored, albeit cruel, rite of passage forces each Watcher to drain the Slayer of all her physical powers and then send her to vanquish a powerful vampire using only her wits. When Buffy Summers underwent her Cruciamentum, she managed to defeat Kralik, a vampire who had been committed to a sanitarium as a human for torturing and murdering more than a dozen young women before he was turned. However, not all Slayers have been so cunning.

Tales of the Slayer, Vol. 4 chronicles the Cruciamentum of eight earlier Slayers. From Prohibition Chicago to beatnik New York City, from the sideshows of a traveling carnival to a small Irish farm, from the fifteenth century to the twentieth, the Cruciamentum has tested the prowess of Slayers throughout history. Each of them has had to fight: for her job, for the lives of those she loved, and for her own existence....