Angel: Old Friends #2 Phillips Cover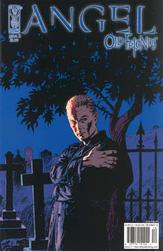 Written by Jeff Mariotte, art by David Messina, covers by Messina, Neil Yokes, Tone Rodriguez and Sean Phillips.

Upon learning that nothing is what he thinks it is, Angel finds his reunion with friends and allies is no cheerful affair. A rash of vampiric murders continues to rock L.A., and Angel feels drawn back into the city in spite of himself. But who can he trust in this strange new world? If he doesn't find out soon, it may be too late for everyone... this latest miniseries spinning out of Joss Whedon's fan-favorite TV show was once again written by Angel novelist and comics writer Jeff Mariotte with full art and colors once again provided by David Messina. Messina also provides the cover, as do variant cover artists Neil Vokes, Tone Rodriguez, and Sean Phillips.