Angel: Old Friends #4 Walks Cover (Illyria)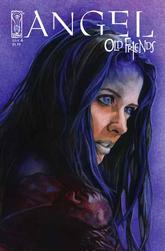 Jeff Mariotte (w); David Messina (a); Messina, Kohse, Rodriguez, Walks (c)
As Angel and friends get closer to finding out who is playing tricks on them-and why-L.A.'s mean streets get a little meaner. Who will survive, and who won't? The penultimate issue of Old Friends is guaranteed to surprise Angel fans everywhere! Written by Angel novelist and comics writer Jeff Mariotte (Angel: The Curse) with full art and colors once again provided by David Messina (Angel: The Curse). Variant covers for this issue will be provided by Lee Kohse, Tone Rodriguez, and Russell Walks. The variant covers will ship randomly.