ANGEL ONLY HUMAN #1 (OF 4)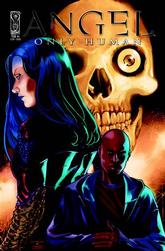 Scott Lobdell (w) o David Messina, Mirco Pierfederici (a) o Dave Dorman, Messina (c) Spinning out of the events of Angel #23, Gunn and Illyria embark on their very own four-part miniseries. Fully restored in body if not in mind, Illyria-infected with humanity-and Gunn-infected with darkness-hit the road in an attempt to find redemption, or die trying. By Scott Lobdell (Galaxy Quest) and David Messina (Star Trek: Countdown)! Two regular covers will be shipped in a 1-to-1 ratio. Order two copies, get both covers shipped to you.

NOTE: This is a preorder slated to ship in August (subject to change without notice by the publisher). Your credit card will be charged when the item is about to ship to you.