ANGEL AFTER THE FALL #13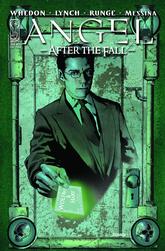 Joss Whedon & Brian Lynch (plot) Brian Lynch (w) Nick Runge (a) Runge, Alex Garner (c)

Gunn wants to save Los Angeles. Angel will do anything to stop him. Plus, someone makes Wesley an offer he can't refuse? even if it means certain doom for everyone around him. Revelations, surprises, and battles to the death, in the lucky 13th issue of the official continuation of the Angel series. Two regular covers will be shipped in a 1-to-1 ratio. Order two and get one of each.