Angel #10 Photo Cover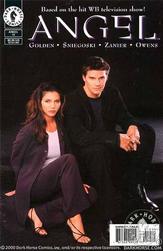 Writer: Christopher Golden, Tom Sniegoski
Penciller: Christian Zanier
Inker: Andy Owens
Letterer: Clem Robins
Colorist: Lee Loughridge

How can anyone be lonely in a city as big as Los Angeles? In part one of "Love for Sale," a California congressman is murdered and robbed by a lady of the evening, which is front-page sleaze and scandal just the way the media likes it, but with one frightening twist: Cordelia has a vision about the congressman just before he dies -- and the prostitute who killed him wasn't human! Now it's time to track down the inhuman assassin and take care of business -- Angel style! Comes bagged and boarded.

Publication Date: Aug 09, 2000
Format: Full color, 32 pages.
NOTE: You will charged only for the price of the item you are ordering plus 1 cent; no shipping will be charged but there is a 1-cent fee as our system requires a shipping amount in order to process orders). You can pick up your item(s) at the CineQuest.com booth at 90s Con 2023, March 17,18,19 at the Connecticut Convention Center in Hartford , CT. To pick up your order, please bring your receipt (either printed or on your phone) along with a photo ID matching the name of the person who placed the order. Orders must be picked up by noon on Sunday, March 19; orders not picked up will be refunded less 50% restocking/carrying fee.