Angel #14 Photo Cover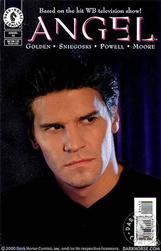 Writer: Christopher Golden, Tom Sniegoski
Penciller: Eric Powell
Inker: Jason Moore
Letterer: Clem Robins
Colorist: Lee Loughridge

What do a rash of deaths by spontaneous combustion, a teenage girl on the lam, and a demon spellcaster all have in common? If Angel wants to prevent any more deaths by fire, he'd better figure it out. And as Angel and crew investigate, he discovers that even he may have a connection to this case.

Publication Date: Dec 13, 2000
Format: Full color, 32 pages.