Angel #3 Photo Cover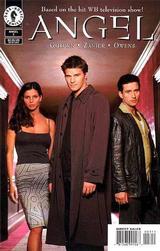 Writer: Christopher Golden
Penciller: Christian Zanier
Inker: Andy Owens, Jason Minor, Curtis P. Arnold
Letterer: Clem Robins
Colorist: Digital Broome

Angel, with the help of Cordelia and the demonic Doyle, is hot on the trail of the woman who had him thrown down a well and left for dead. She's also responsible for a series of murders and kidnappings. But Angel may find out that catching up with her is the last thing he wants to do. Straight from the hit series, follow Angel's exploits as he turns L.A. upside-down. Comes bagged and boarded.

Publication Date: Jan 12, 2000
Format: Full color, 32 pages.
NOTE: You will charged only for the price of the item you are ordering plus 1 cent; no shipping will be charged but there is a 1-cent fee as our system requires a shipping amount in order to process orders. You can pick up your item(s) at the CineQuest.com booth at 90s Con 2023, March 17,18,19 at the Connecticut Convention Center in Hartford , CT. To pick up your order, please bring your receipt (either printed or on your phone) along with a photo ID matching the name of the person who placed the order. Orders must be picked up by noon on Sunday, March 19; orders not picked up will be refunded less 50% restocking/carrying fee.