Angel #4 Photo Cover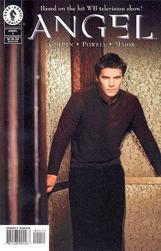 Writer: Christopher Golden
Artist: Eric Powell
Letterer: Pat Brosseau
Colorist: Guy Major

In Los Angeles, things aren't always what they seem. Angel tries to help a woman caught in an abusive marriage, never suspecting where the real danger lies. They say no good deed goes unpunished, and Angel is about to learn that firsthand.

Publication Date: Feb 09, 2000
Format: Full color, 32 pages.