Angel #6 Photo Cover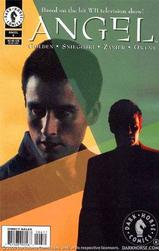 Writer: Christopher Golden, Tom Sniegoski
Penciller: Christian Zanier
Inker: Andy Owens
Letterer: Clem Robins
Colorist: Guy Major

A string of possessions among the L.A. rich and famous lead Angel to team up with an exorcist. With his sidekick dead, Angel needs the help. Even a crime-fighting vampire has a tough time learning that the lines between good and evil are never so blurry as in Los Angeles.

Publication Date: Apr 12, 2000
Format: Full color, 32 pages.