Angel #7 Photo Cover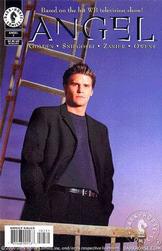 Writer: Christopher Golden, Tom Sniegoski
Penciller: Christian Zanier
Inker: Andy Owens
Letterer: Clem Robins
Colorist: Guy Major

Who is the mysterious Father Gaetano, and just where does he stand in the war between good and evil? Angel needs to find out before it's too late! Brought to you by the writer of Buffy the Vampire Slayer: The Watcher's Guide and the artist of Buffy and Rising Stars!

Publication Date: May 10, 2000
Format: Full color, 32 pages.