Angel #8 Photo Cover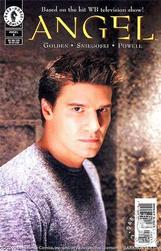 Writer: Christopher Golden, Tom Sniegoski
Artist: Eric Powell
Letterer: Pat Brousseau
Colorist: Lee Loughridge

Corpses are cropping up in all sorts of places, and Angel and Detective Kate Lockley both have different ideas about who's behind it. Unfortunately for them, they may both be wrong. And in Angel's Los Angeles, being wrong can lead to being dead. Follow the exploits of the hit TV show in a comics format you can really sink your teeth into!

Publication Date: Jun 14, 2000
Format: Full color, 32 pages.