Angel #9 Photo Cover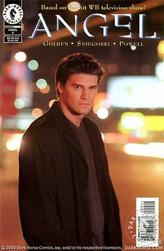 Writer: Christopher Golden, Tom Sniegoski
Artist: Eric Powell
Letterer: Pat Brosseau
Colorist: Lee Loughridge
Genre: Action/Adventure, Horror

Beneath the city of angels, a killer is stalking the sewers. Angel is hunting a monster, though he's not certain if it's the right monster. And Detective Kate Lockley and her men are also in the sewers, looking for the one she thinks is responsible: a certain vampire named Angel. They are moving closer and closer toward a final, climactic battle with the real killer. Be there for all the mayhem!

Publication Date: Jul 12, 2000
Format: Full color, 32 pages.