Angel: The Curse #1 Smile Time Kordey Cover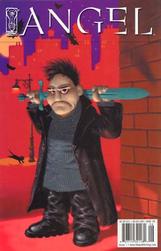 IDW Publishing returns Angel to comics in Angel: The Curse, the first in five-issue Angel miniseries that sees our vampire with a soul going it alone.

Angel is on the run in a mysterious forest in Romania, searching for the Gypsy clan that cursed him so many years ago. But he discovers that the landscape of Romania has changed considerably since he's been gone ? now, the Gypsies are oppressed, living under the thumb of a local warlord who holds his power by using a vampire army. Angel is forced to take a stand, and the resulting conflict may well doom any hope Angel has of ever reversing the curse.