Buffy: Angel Past Lives Graphic Novel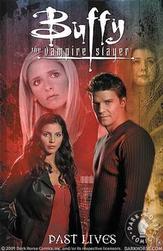 A huntress is tracking demons in L.A. This would normally seem to be a good thing, except leaving survivors to tell Angel that she sent them. Angel has a huge horde of demons trying to track him for revenge. His human friends, Cordelia and Wesley will soon no longer be safe, unless Angel can do something. At the same time monsters are leaving L.A. and trying to find refuge at Sunnydale. Buffy, Giles, and the others learn about recent chaos, and Buffy believes she should go to help Angel in L.A. Riley is unpleased with such developments. Comes bagged and boarded.
NOTE: You will charged only for the price of the item you are ordering plus 1 cent; no shipping will be charged but there is a 1-cent fee as our system requires a shipping amount in order to process orders. You can pick up your item(s) at the CineQuest.com booth at 90s Con 2023, March 17,18,19 at the Connecticut Convention Center in Hartford , CT. To pick up your order, please bring your receipt (either printed or on your phone) along with a photo ID matching the name of the person who placed the order. Orders must be picked up by noon on Sunday, March 19; orders not picked up will be refunded less 50% restocking/carrying fee.