Buffy #17 Art Cover (Vol. 1)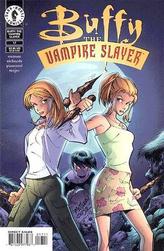 Writer: Andi Watson
Cover Artist: Jeff Matsuda
Penciller: Cliff Richards
Inker: Joe Pimentel
Letterer: Amador Cisneros
Colorist: Guy Major

The gang from Sunnydale have faced some unspeakable horrors: ice demons, werewolves, and kung-fu vampires among them. But can the group face the terror of Buffy and Xander making out? What is going on here, and how is it tied to the super vampires, Selke, and the mysterious figures in Sunnydale's sewers? If the group is going to survive, they'll have to brave the chaos of Mardi Gras to find the answers.

Publication Date: Jan 26, 2000
Format: Full color, 32 pages.