Buffy #18 Art Cover (Vol. 1)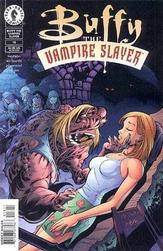 Writer: Andi Watson
Cover Artist: Jeff Matsuda, Jon Sibal
Penciller: Cliff Richards
Inker: Joe Pimentel
Letterer: Amador Cisneros
Colorist: Guy Major

Mardi Gras is nearly upon the Sunnydale gang and, in addition to finishing their float, they have to figure out what's going on with Buffy. Since when has she been so into her looks, and what's up with the . . . tattoos and piercings? Meanwhile, Angel is getting closer and closer to discovering the source of the super-vamps . . . and it may just cost him his life! Be there as the "Bad Blood" story line rages on.

Publication Date: Feb 23, 2000
Format: Full color, 32 pages.