Buffy #19 Art Cover (Vol. 1)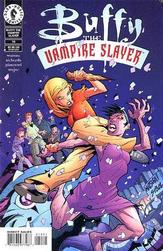 Writer: Andi Watson
Cover Artist: Jeff Matsuda
Penciller: Cliff Richards
Inker: Joe Pimentel
Letterer: Amador Cisneros
Colorist: Guy Major

For months now, Buffy and the gang have been dealing with superpowered vampires and slayer dopplegangers. Selke's finally coming out of hiding, but Buffy's not quite up to speed to deal with her. A massive conclusion to the nine-part "Bad Blood" story!

Publication Date: Mar 22, 2000
Format: Full color, 32 pages.