Buffy #22 Art Cover (Vol. 1)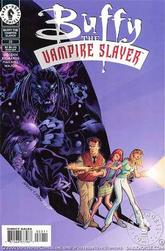 Writer: Christopher Golden
Cover Artist: Jeff Matsuda
Penciller: Cliff Richards, Chynna Clugston-Major
Inker: Joe Pimentel, Chynna Clugston-Major
Letterer: Dragon Monkey
Colorist: Guy Major

The demons are gathering. Once more, Sunnydale is playing host to a congregation of the undead, and it's up to Buffy and her gang to find out why and put a stop to it. This issue continues the Blood of Carthage story line, and brings Buffy one step closer to discovering the secrets of Vraka, Xerxes the Blind, and the rest of the demon hordes. If she's lucky, she'll also get her term paper done!

Publication Date: Jun 28, 2000
Format: Full color, 32 pages.