Buffy #1/2 Wizard Exclusive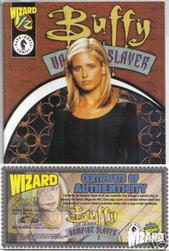 Xander steps into the spotlight! After getting pushed around at Sunnydale High School, Xander has to stand up to the bully and fight a demon to boot! Well, he does get a helping hand from everyone's favorite Slayer... This is an exclusive limited edition comic book was presented by Dark Horse Comics and Wizard Magazine and comes with a certificate of authenticity. Story by Christopher Golden with art by Hector Gomez.

A Wizard Exclusive Variant, comes with certificate of authenticity.