Buffy #61 Photo Cover (Vol. 1)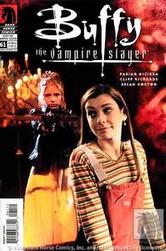 Buffy the Vampire Slayer #61 (Photo Cover)
A Stake to the Heart #2 (of 4)
Buffy Summers's life is in shambles. She's been kicked out of school, recently released from a mental institution, and, to top it all off her parents' crumbling marriage is finally over. Now her would-be protector, the vampire Angel, has unwittingly unleashed a string of demons upon her, in an incredibly misguided attempt to alleviate her grief. Don't miss one of the hottest teams in comics telling the story of one of the darkest chapters in Buffy Summers' life, set before the premiere of the cult favorite television show!


| | |
| --- | --- |
| Condition: | NM |
| Star: | Alyson Hannigan |
| Star: | Sarah Michelle Gellar |