Buffy the Vampire Slayer #52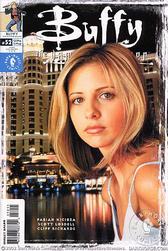 "Viva Las Buffy"! Before Buffy ever arrived in Sunnydale, she did a little stint in Vegas. Not exactly doing what we have her pictured here, but we couldn't resist ...
Frightened and confused by her new-found powers as the Slayer, Buffy has picked up and left her mom and little sister behind. Hiding out in Sin City is no way to avoid trouble, though, especially when the city's gentle citizens are being terrorized by just a few of the many bodies buried without headstones in Vegas's seedier strips.