Spike Shadow Puppets #3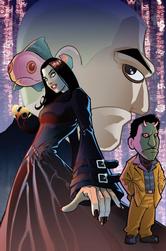 Brian Lynch (w); Franco Urru (a); Urru, David Messina (c)
Well, now they did it. Smile Time has turned Spike into a puppet. But if they think that's gonna stop him, they don't know Spike. Half as tall. Twice as mad. Five times as adorable. It's wall-to-wall, puppet vs. puppet, hard-hitting action courtesy of the Spike: Asylum team of Brian Lynch and Franco Urru! Two different covers; will ship randomly.